Community Values & Guidelines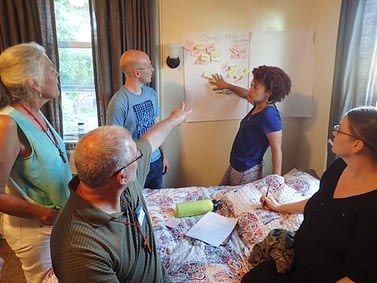 1. Everyone is welcome to our Centers and will be treated with respect and kindness. The only cause for being unwelcome at our classes or events is a repeated or egregious disrespect of other students or leaders.
2. We encourage all our participants to be open and honest while honoring the perspectives and experiences of others. We do not allow or condone any discrimination against other people based on racial or ethnic identities, sexual orientation, gender identity, sex, class, political or religious beliefs. We strive to be an open and affirming community in all ways.
3. We value self-awareness and self-responsibility. We ask that participants honor the boundaries of others by abstaining from speaking for others or giving unsolicited advice.
4. All participants are expected to honor the privacy of other group members and to not share any personal information about other group members outside of the group.
5. We ask that participants approach the material and activities with an open mind and a curious spirit. We all benefit when we ask questions rather than make assumptions, so everyone is encouraged to ask any questions as they arise.
We look forward to getting to know you and to discovering the unique gifts you bring to our community, whether you join us for a day, a week or for many years to come.